Welcome OMFS and other specialists
There are six Canadian Training Centres for candidates to obtain their education as an Oral and Maxillofacial Surgeon: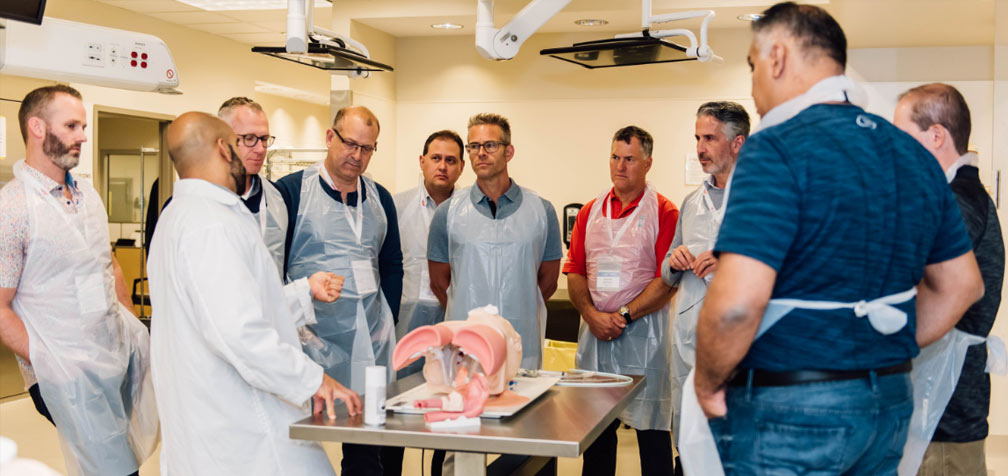 In all provinces, candidates for OMFS must first hold a dental degree (DDS) and be able to demonstrate successful completion of the National Dental Examining Board exams. The candidate must then complete an Oral and Maxillofacial Surgery residency program and pass the National Dental Specialty Examination (NDSE) in Oral and Maxillofacial Surgery administered by the Royal College of Dentists of Canada (RCDC).
In rare cases, individuals who have not completed this graduate degree may be considered once vetted through a comprehensive process that involves a review of credentials, completion of an eligibility exam, assessment of clinical competencies, possible gap training, and then completion of the NDSE.
The licensing requirements for individuals to become certified as an Oral and Maxillofacial Surgeon fall under the Provincial Jurisdiction for the province in which the OMFS practices.
There are a number of OMFS who pursue further training to become experts in this area of specialty. Some OMFS programs are dual degree, meaning that the surgeon earns a dental degree (DDS) as well as a medical degree (MD), plus their graduate degree in Oral and Maxillofacial Surgery. The surgeon gains training in a hospital-based program where they are able to complete rotations with all of the areas of medical specialties. In addition, some OMFS will acquire sub specialty training by completing a fellowship program in an accredited program that further advances their skills.
Become a member of the CAOMS
There are many benefits to joining the CAOMS, such as excellent continuing education opportunities at our annual events, providing valuable input about issues that affect our specialty, and being part of a vibrant community of your peers.
I love the CAOMS because...
Improve communication among members
The (CRAOMS), is a branch of the Canadian Association of Oral and Maxillofacial Surgeons (CAOMS). This resident association was developed for residents studying in Canada, the United States and abroad to improve communication between resident programs, and to provide support for residents during their studies.
Wondering where to advertise an OMS job opportunity? Or how to buy oral surgery equipment? Or perhaps you are looking to join a group of oral surgeons in a thriving practice? The CAOMS Job Board & Classifieds section is the place to view and post such advertisements!
Oral and Maxillofacial Surgery
The Royal College of Dentists of Canada (RCDC) website will answer most of your questions about working in Canada. In summary, in order to become a licensed specialist in Canada, you must be licensed by the Dental Regulatory Authority (DRA) in the province in which you wish to practice. The DRAs use the National Dental Specialty Examination (NSDE), administered by the Royal College of Dentists of Canada, as a measure of competence. If you are an internationally trained dental specialist and have completed a dental speciality program that is not accredited by the Commission on Dental Accreditation of Canada (CDAC) or a body with which CDAC has reciprocal accreditation agreement, please visit the International Candidates page of the RCDC website to find out how to write the NDSE in order to practice in Canada. In order to ensure that you have the most relevant and accurate information on licensing, we recommend that you contact the DRA for the province in which you wish to practice directly. Please visit the Dental Regulatory Authority section of the RCDC website for a list of regulators by province and their contact information – these organizations are able to advice potential candidates of the particular requirements for licensure within each province.
The CAOMS is pleased to offer a Job Board section. Please review the Advertising Policy below and visit the Job Board section to post your ad:

a) Limit your advertisement to 500 words or less and any images should be approximately 600 pixels in width. Any editing is the responsibility of the advertiser.
b) The advertisement will be posted in PDF format. Links to other websites and email addresses can be included in the file.
c) Rate is $100 per month (plus tax), with a 2-month minimum ($200).
d) Payment must be received prior to the posting of the advertisement (online credit card payment).
e) The CAOMS reserves the right to refuse any advertisement.
f) This policy can be changed at any time at the discretion of the CAOMS.
The CAOMS offers many types of support to OMFS Residents:
All first-year students, from every Canadian Training Centre for OMFS, are eligible recipients of the Dr. Al Swanson award. This CAOMS award is a $300 gift certificate from Elsevier to help defray the costs of educational material.
Residents can join and benefit from the Canadian Residents Association of Oral and Maxillofacial Surgeons (CRAOMS), a branch of the CAOMS.
Membership to the CAOMS is free for students. As such, there are no conference registration fees for Student Members to attend the CAOMS Annual Conference and many other such educational opportunities. Furthermore, upon completion of their studies, a Student Member who has obtained first time licensure/registration in the specialty of OMFS in a Canadian regulatory jurisdiction is eligible for a waiver of Active Membership dues for their first year of membership to the CAOMS provided they apply for membership within 24 months of when they obtained licensure/registration.